IRSA Lackfabrik Irmgard Sallinger GmbH
Products for application areas: Manuell geölte Oberflächen - hell pigmentiert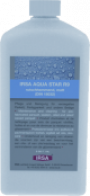 Maintenance and cleaning agent for oiled/waxed and sealed wood and (prefinished sealed or oiled) parquet floors (matt effect) and for other surfaces.
Ingredients [PDF]
Since no layers of film are built up, IRSA Aqua Star R9 is ideally suitable for matt sealed surfaces.
Approved according to DIN 18032, part 2, also suitable for gymnasiums and sports halls (non slip finish).
Can be used as the first maintenance treatment and as a maintenance and cleaning agent in the cleaning water for ongoing maintenance.
Product in IRSA Shop

for wood, parquet and cork floors and also other surfaces
Ingredients [PDF]
Using the IRSA Blitzboy or the IRSA one disc machine (and green pad) remove e.g. layers of cleaning product that have built up over time and free the floor of every type of dirt in an environmentally friendly, almost odourless way.
Also exceptionally effective on alkaline sensitive flooring (e.g. lino, cork, oak wood) - no darkening in the colour.
Product in IRSA Shop
colourless, coloured
This solid or liquid gloss wax is used for oiled surfaces as a basic protection and for further maintenance treatment.
Apply the material in one or two coats to the pre-oiled surface and polish up immediately when dry.
Product in IRSA Shop

What is light should remain light: "neutral" with IRSA care oil
Do you know the unsightly effect when a lightly pigmented oiled floor darkens immediately after being treated with a colourless care oil?
With the new IRSA care oil "neutral" this is prevented.
The IRSA Care Oil "neutral" can be used on surfaces treated with oils for care and protection as well as for cleaning at the same time. The appearance of IRSA Care Oil "neutral" on light-coloured pre-oiled surfaces is neutral or hardly changes because the pigments of IRSA Care Oil "neutral" are optimally matched to the light-coloured surfaces.
P101 If medical advice is required, have packaging or label ready. P102 Keep out of the reach of children. P103 Read label before use. EUH208 Contains cobalt bis(2-ethylhexanoate).
May cause allergic reactions. EUH210 Safety Data Sheet available on request.
If you want to know more, click here: PDF flyer
Product in IRSA Shop

For colourless and coloured oiled, non waxed surfaces which are to retain their matt finish
Ingredients [PDF]
Consumption ca. 10g/qm
Spread the maintenance oil with the IRSA oil impregnated cloth and the IRSA Blitzboy or with the IRSA polishing machine. Maintenance and cleaning in one process.
For brightly coloured oil surfaces which should stay longer bright.

Product in IRSA Shop

available in colourless and white
For a pore-deep, re-lubricating cleaning of oiled or waxed surfaces
Ingredients [PDF]
Apply diluted in the cleaning water with IRSA Blitzboy and cleaning cloth.
Product in IRSA Shop
Back to overview
---