IRSA Lackfabrik Irmgard Sallinger GmbH
Products for application areas: Gummiböden

is excellent as a pre-cleaner or for a quick intermediate clean e.g. of dirty sealed and /or oiled/waxed parquet flooring, pre-finished parquet flooring or flooring made of wood, cork, PVC, lino, stone or rubber.
Ingredients [PDF]
The product can also be used for cleaning garden furniture or wooden decking.
Always carry out a test coat on an inconspicuous area. IRSA Aqua Cleaner 5000 is suitable to use with all IRSA care products.

Product in IRSA Shop
self glossing
for sealed parquet and wooden floors
Ingredients [PDF]
Use undiluted as a silky gloss finish for floors.
For maintenance and cleaning use diluted in the cleaning water (approx. 50ml in 10 L water), in order to clean without having to polish.
The universal cleaning apparatus IRSA Blitzboy with the IRSA cleaning cloth (no micro fibre) gives an optimum effect.
Pre-clean heavily soiled floors using IRSA Cleaner 5000.
Product in IRSA Shop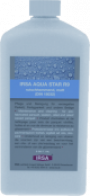 Maintenance and cleaning agent for oiled/waxed and sealed wood and (prefinished sealed or oiled) parquet floors (matt effect) and for other surfaces.
Ingredients [PDF]
Since no layers of film are built up, IRSA Aqua Star R9 is ideally suitable for matt sealed surfaces.
Approved according to DIN 18032, part 2, also suitable for gymnasiums and sports halls (non slip finish).
Can be used as the first maintenance treatment and as a maintenance and cleaning agent in the cleaning water for ongoing maintenance.
Product in IRSA Shop

for wood, parquet and cork floors and also other surfaces
Ingredients [PDF]
Using the IRSA Blitzboy or the IRSA one disc machine (and green pad) remove e.g. layers of cleaning product that have built up over time and free the floor of every type of dirt in an environmentally friendly, almost odourless way.
Also exceptionally effective on alkaline sensitive flooring (e.g. lino, cork, oak wood) - no darkening in the colour.
Product in IRSA Shop
Back to overview
---