Wood colouring with new IRSA colours from IRSA Platinum 2K Öl-Grundierung and IRSA 2K Platinum Wasserlacke with different gloss levels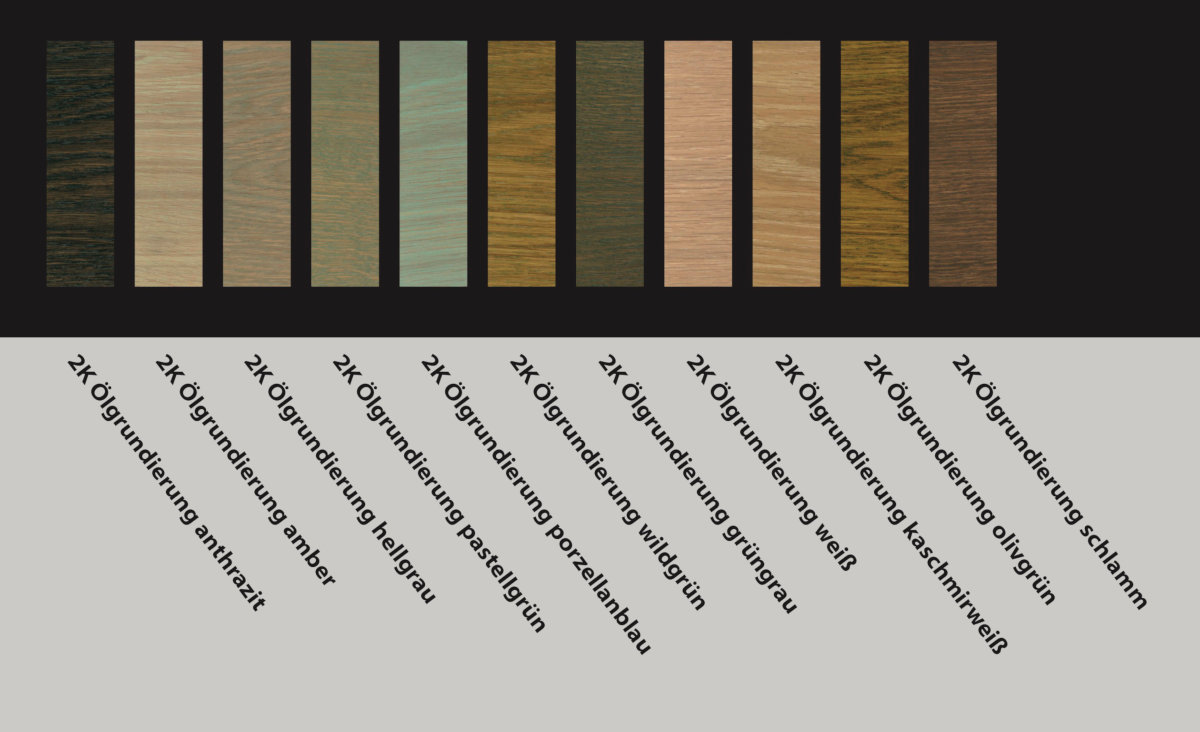 IRSA Platinum 2K Öl-Grundierung is not only suitable for cork, but also for the colour design of wood in interior finishing.
IRSA Platinum 2K Öl-Grundierung is a 2-component high-solid oil combination with natural oils, cross-linking and oxidative drying through the addition of IRSA 2K Öl-Härter (mixing ratio 10:1).

The wood coloured very easily with IRSA Platinum 2K Öl-Grundierung - even large floor surfaces can be coloured quickly and easily and can also be over-sealed.
IRSA Platinum 2K Öl-Grundierung is available in the colours white, black, light grey, teak, anthracite, wenge, oak, mud, colourless. Brand new in the range are amber, wild green, porcelain blue, green grey, cashmere white. And of course we also offer special shades on request.

The lightfast, i.e. non-yellowing IRSA Platinum 2K Wasserlacke (IRSA Platinum 2K 3010, silky-mat, IRSA Platinum 2K 3030, ultra-mat) are perfectly suited for this purpose. Because these coating systems are matched to wood and promise not only a long service life, but also visually attractive qualities.

This is how the IRSA Platinum 2K Öl-Grundierung and the IRSA 2K Platinum Wasserlacke are applied:

IRSA Platinum 2K Öl-Grundierung is applied evenly to the substrate with IRSA Rapidspachtel (consumption: approx. 30-80 g/m2 per coat). The pot life is 2 hours! After 10 - 30 min. application time with a white pad, polish the surplus completely and evenly into the wood, allow to dry for at least 24 hours and the surface is ready for over-sealing!

Before sealing, check that the oil has dried sufficiently. Rub the coloured wood surface with a paper towel. If there is no abrasion, the surface is dry (use dark cloths for light surfaces and light cloths for dark surfaces).

The over-sealing is as usual:
2-3 layers a 120 g/m² per layer with IRSA Platinum 2K Wasserlacke. If the drying time of a layer is more than 12 hours, intermediate sanding with 150 grit is required. The curing time is approx. 5 days.

Care and cleaning for a long product life and optimized appearance:

The subsequent care and cleaning after curing time of the overcoat is alternatively carried out with IRSA Aqua Star R9 (for matt surfaces) or IRSA Aqua Star (for silky surfaces) depending on the desired appearance. Use IRSA Grundreiniger G88, to remove persistant dirt and for basic cleaning. Ask for our care sets.

Please observe our care instructions IRSA Aqua Star and Aqua Star R9 (request or download see www.irsa.de/download) as well as the corresponding Technical Data Sheets and container labels.