IRSA (D) promoted and sponsored together with the IRSA representatives ALBERS (NL) and HOLZ BOIS (B) the European organized WORKCAMP PARQUET in the Castle Arcen (NL).
WORKCAMP PARQUET is a LIVE SHOW "Parquet Design" with approx. 40 craftsmen from 15 different European countries. The attraction of the craft "parquet layer" will be shown to prospective trainees.

The Tapis floor was oiled and refined with the 2-component oil IRSA 2C HP-Plus Oil.

The IRSA workshop "Consumer education on sustainability and parquet" got a positive attention.
WORKCAMP PARQUET is a 3 year young project with the aim to become a European communication network with many branches. Through the exchange of knowledge between different craft traditions, a new solidarity develops among the craftsmen and other participants from different European countries.

The attraction of the trade "parquet layer" is brought near to prospective trainees. Of course, further exchange will take place digitally and new business contacts will also be made. The event will be filmed and later shown by MDR. The IRSA workshop films are made available to all our IRSA customers upon request. The project shows heart and soul for the craft and its art. The focus is on enthusiasm for ambitious doing and designing. IRSA was happy to support this.

The Tapis floor was oiled and refined with the 2-component oil IRSA 2C HP-Plus Oil.

IRSA 2C HP-Plus Oil, solvent-free, with IRSA Hardener 2C HP-Plus Oil (10:1), DIBt approval number: No. Z-157.10-143, was tested in accordance with anti-slip class R 10, which is available for parquet and wooden floors, for bamboo, cork and OSB, in colourless, sand-blue, black, dark grey, light grey, white, wenge. The product dries extremely quickly (overnight) and is suitable for all load levels. Film formation does not build up, which is why it can be easily and simply re-oiled with IRSA care oil or maintained and cleaned (oil can suck into the wood pore). Can also be used on coloured "primers" such as IRSA Basic Color, IRSA Design Colour Oil or IRSA Alkalis - unique, numerous and individual combination possibilities can be achieved with these IRSA products.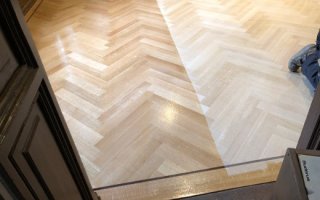 The ALBERS Tapis floor was oiled and refined with the 2-component oil IRSA 2C HP-Plus Oil.
The IRSA Workshop "Consumer Education on Sustainability and the Parquet" together with Albers got a positive attention.

The numerous workshops were open to everyone. The participants and visitors were informed by sponsors, supporting partners, also from the industry and brought up to date with the current state of knowledge. Practical tips and tricks are necessary in the Workcamp Parquet and are shown and discussed. IRSA and Albers focused on the sustainability of solid wood floors. In addition to describing which quality criteria make the Albers- and IRSA products so special, both companies focused on consumer education.

"Why solid parquet is one of the cheapest floors".

We gave a comprehensive presentation "Why solid parquet is one of the cheapest floors". The initially relatively high purchasing price of the floor, caused by the additional craftsman costs (not only laying, but additionally costs arise from sanding, cementing, sealing or oiling), is compensated by the long durability and the possibility of multiple renovations of a manually created and refined floor.

In addition to a good ecological balance, a handcrafted and designed wooden floor gives you a unique, individual and attractive appearance. A solid wood floor is heat insulating, durable (well maintained for at least 50 years) and above all increases the value of real estate.

Because a solid wood floor can be renovated several times and does not have to be replaced 3-5 times within 50 years (high costs of replacement and disposal!), the creation of the craftsmanship of such a floor is particularly appreciated.

Therefore, IRSA supported the workcamp in 2018 and will continue to support this idea in the years to come - because we like to promote education, craftsmanship and the knowledge of quality!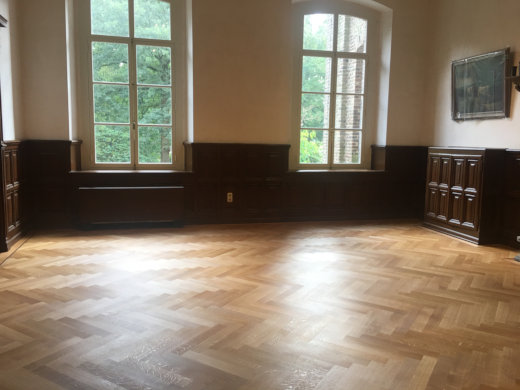 The beautiful end result: Tapis floor by ALBERS refined with the very hard-wearing IRSA 2C HP-Plus Oil.