Smaller wood surfaces (oiled)
Products for application areas: Smaller wood surfaces (oiled)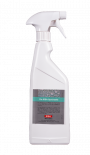 ready to use for spraying on oiled open-pored surfaces
IRSA Spray Soap is used for cleaning and care of dark or naturally oiled wooden surfaces. IRSA Spray Soap has a regreasing effect. The ready-to-use spray facilitates the care and cleaning of furniture, doors, table tops, panels, stairs and floors. IRSA Spray Soap is ideal for small surfaces. For cleaning large surfaces we recommend IRSA Soap Cleaner.
Buy now in IRSA Shop!
Alcohol-based primer for exotic and domestic woods (also for fruit wood); can be painted over with all IRSA Platinum water-based paints
IRSA Uni Primer AL is suitable for all domestic woods as well as exotic woods and isolates most of the wood components.
Preserves the natural wood tone. With the primer a natural grain is achieved.
Warnings: H225 Highly flammable liquid and vapour, H319 Causes severe eye irritation, H336 May cause drowsiness and dizziness; safety advice: P210 Keep away from heat, hot surfaces, sparks, open flames and other sources of ignition. Do not smoke, P370 + P378 In case of fire: Use dry powder or sand to extinguish, P403 + P233 Keep in a well-ventilated place. Keep container tightly closed, P403 + P235 Store in a well-ventilated place. Keep cool; Hazard-determining component for labelling: 2-propanol.

Order now - with IRSA-Professional advice
Back to overview
Please note
All specified drying times refer to 20° C and 55% relative humidity.
For further details please refer to our detailed care instructions, technical data sheets and safety data sheets (see Download).
---