IRSA Lackfabrik Irmgard Sallinger GmbH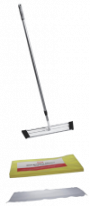 IRSA Blitzboy & accessories
Universal IRSA cleaning and maintenance appliance for all types of flooring:
IRSA BLITZBOY is excellently suited as a tool for the cleaning and maintenance of all varnished, water-proofed and/or oiled or waxed surfaces, for applying IRSA products and for polishing.
Due to the velcro strips on the underside of the IRSA Blitzboy different pads can be affixed quickly. The oil cloths and/or the special long-life IRSA Mopping Cloth (no abrasive microfibers) can be fixed easily by tucking them in on the upper side.
with green Pad

for the cleaning and removal of very dirty wax layers

with beige Pad
for the application of IRSA Natura Hard Wax and/or IRSA Oils (e.g. IRSA Maintenance Oil) and for the cleaning and removal of moderately dirty surfaces

with white Pad

to polish up IRSA Natura Hard Wax and as a base pad for the daily routine maintenance cleaning with IRSA Oil or Mopping Cloth

IRSA Oil Cloths

pre-oiled cloths to remove dust and to clean and maintain oiled surfaces

IRSA Mopping Cloth

for varnished surfaces to carry out daily routine moist mopping and maintenance with e.g. IRSA Aqua Star, IRSA Cork Clean, IRSA Aqua Star R9
for waterproofed surfaces with IRSA Soap Cleaner and IRSA Care Milk for varnished and water-proofed surfaces for basic cleaning
The mopping cloth can be washed up to 500 times at 95 °C

In addition to the IRSA Maintenance instructions we also offer, free of charge, a certificate of quality "Floor Protection-Pass"
Product in IRSA Shop
OUR PRODUCT RANGE FOR YOU
---