CURRENT NEWS
The Bavarian Cluster is an Initiative, an initiative of the Bavarian State Government which aims to expand and strengthen state-wide networks between companies, universities and research institutions and also between service providers and financiers in 19 key sectors and fields of technology.
You get all important information with the brand-new newsletter from Chemie Cluster Bayern...for example answers in the context of an interview with Lilo Sallinger
http://chemiecluster-bayern.de/
http://chemiecluster-bayern.de/fvc_news/hot-seat-lilo-sallinger/
 
Hot seat: Lilo Sallinger
Three questions to a person from your area
Ms. Sallinger, you are very concerned about sustainability and ecology, which is also reflected in the IRSA product range. This clearly reflects the spirit of the times. Do you believe that consumer attitudes have changed in recent years?
 
In the 1980s, a broad-based opinion campaign ensured that systems containing high levels of solvents were pushed back, and this was proven right like the keyword: "xyladecor and home toxins". The triumphal march of water-based paints, oils and waxes could begin. Today, these surface protection systems have a market share of almost 90% in the wood flooring sector. Today's zeitgeist expects products that are environmentally friendly but also function technically. Products of the future must be easy to use, be able to protect for a long time, be odourless and guarantee resource efficiency due to their fundamental ability to be repaired. The price-performance ratio in terms of value retention will therefore be more critically scrutinized in the future than before.
 
 
As a consumer I would find it difficult to find the right product for my needs due to the variety of paints and varnishes. How do you explain the advantages of IRSA products to your customers?
 
We want to demonstrate the special properties of a water-based varnish, sealing oil or oil with the help of concise tables, product information, application films and an app. Categorized technical and optical characteristics of IRSA products - such as durability, firing, gloss level and colour - should draw attention to what the difference is and how the product price is influenced in this way. Our goal here is transparency through neutral information that shows in concrete terms what benefits the consumer actually derives from one product or another. We communicate clearly what can be obtained and expected for the planned budget.

 
Do you see further potential in the context of digitization that you would like to tackle soon or in the near future?
 
We will continue to expand our YouTube channel, develop further apps and are looking for cooperation partners in the field of "interior design". Because the optical coordination between floor, ceiling, wall, furniture and textiles will be increasingly digitally designed in the future. It is very likely that we will meet completely different cooperation partners than we have been able to imagine so far. Here, too, the customer benefit will always be in the foreground!
 
 
Lilo Sallinger has been managing partner of the family business IRSA Lackfabrik Irmgard Sallinger GmbH in Deisenhausen for over 30 years. IRSA is a manufacturer of sealants, water-based paints, oils, paint systems, care and cleaning agents for the protection of wood in interior finishing (especially for parquet and wood floors) and for exterior use - in addition to surface protection agents for cork, stone floors, sports aircraft, silo and stable floors and other areas. Her father was considered a "polyurethane pope", her mother Irmgard provided innovative water-based coating systems, which the daughter developed further or newly together with oils and waxes (to the fear of the paint industry at that time!). Today IRSA produces and markets only consumer and environmentally friendly professional products with a share of almost 90%. A current research project, together with a Viennese university, will further demonstrate IRSA's innovative capability.
 
cooperation
Chemistry Cluster Bavaria GmbH
Hansastrasse 26
80686 Munich
 
 
The dialogue for the future
Chemie Cluster Bayern 2018, All rights reserved
In 2018, IRSA again was successfully represented by its representative for the Russian Federation on the Mosbuild in Moscow

From the left to the right
Translator Vasilisa, Nail Ismagilov, Elmar Ismagilov and  Lilo Sallinger
The bright colour should remain: with IRSA Pflegeöl "neutral" (IRSA Care Oil "neutral")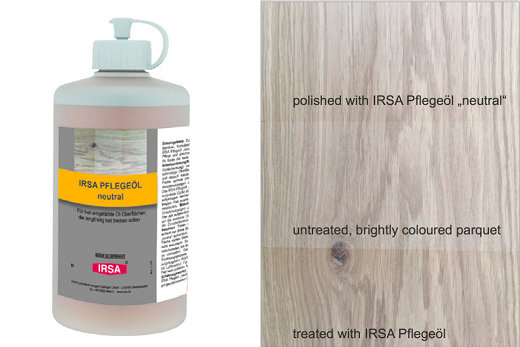 Do you know the ugly effect when the brightly pigmented oiled floor gets immediately darker after polishing with a colourless care oil?

This is avoided with the new IRSA Pflegeöl "neutral".

The IRSA Pflegeöl "neutral" can both be used on surfaces treated with oils for care and protection and maintenance at the same time. The appearance of IRSA Pflegeöl "neutral" has a neutral effect on brightly pre-oiled surfaces and hardly changes as the pigments of IRSA Pflegeöl "neutral" are optimally agreed with the brightly coloured surfaces.

If you want to know more, please click here: PDF-Flyer
NEW

IRSA Bühnenlack WL (IRSA Water-Based Stage Sealer)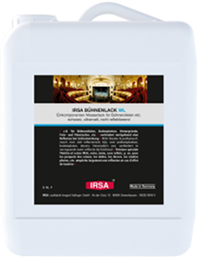 IRSA Bühnenlack WL is delivered as a ready-to-process wood sealer in black, ultra-mat.

Suitable for stages; photo studios

The incidence of light is broken by the ultra-mat adjustment and a reflection or reflective light is almost avoided.
IRSA was pleased about the positive contact with customers and possible customers on the last fairs

Mosbuild 2017
The IRSA Representatives Ideal Parquet for the Russian Federation successfully presented themselves in the MOSBUILD - the greatest fair for building constructions and interior design in Russia: 03.-6.04.2017 Epocentre in Moscow.


From the left to the right: Elmar Ismagilov, Lilo Sallinger, Nail Ismagilov (Ideal Parquet)



 

IRSA Platinum 2C Öl-Grundierung+IRSA Platinum 2C Öl-Härter
(MR: 10:1)


IRSA Platinum 2C Öl-Grundierung is a 2 component High-Solid oil combination of natural oils, linked and oxidatively-drying, by adding the IRSA 2C Oil Hardner.

Available in colourless, white, black, light grey, teak, anthracite, wenge, oak, mud/platin grey.
Special colours available on request.

Suitable for sanded wood and parquet floors, including boards, as well as finally sanded several layer parquet elements. The consumption is 30-80 g/m2 per application – depending on the absorbity of the wood.

The colour primer can be over-sealed with all IRSA Platinum 2C Water Varnishes
(IRSA Platinum 3010 silky-mat, IRSA Platinum 3030 ultra-matt, IRSA Platinum 3055 highly-shining seidenmatt, IRSA Platinum 2 C Nature Feeling extreme-matt).



A 1x2C Oil Primer anthracite 3x Platinum 3030 2C Water Varnish ultra-matt
B 1x2C Oil Primer colourless 3x Platinum 3030 2C Water Varnish ultra-matt
C 1x2C Oil Primer white 3x Platinum 3030 2C Water Varnish ultra-matt
D 1x2C Oil Primer light grey 3x Platinum 3030 2C Water Varnish ultra-matt
E 1x2C Oil Primer wenge 3x Platinum 3030 2C Water Varnish ultra-matt
F 1x2C Oil Primer teak 3x Platinum 3030 2C Water Varnish ultra-matt
G 1x2KC Oil Primer oak 3x Platinum 3030 2C Water Varnish ultra-matt
H 1x2C Oil Primer black 3x Platinum 3030 2C Water Varnish ultra-matt
I 2C Oil Primer - 1 part colourless, 1 part anthracite
J 2C Oil Primer - 1 part colourless, 1 part mud
K 2C Oil Primer - 1part colours, 1 part light grey
 

IRSA ELASTO-FILL, highly elastic

An over-sealable, over-oilable and a joint sealant which can be over-grinded. Available in the colours beech-nature/light sand, nature oak, white, grey, black.  
We deliver a desired RAL colour if at least 4 cartridges are purchased.
Basis:  Acrylic acid esther – copolymer (water-free, isocyanate-free, silicon-free, low in emission, highly elastic.

IRSA Elasto-Fill is used for overwidth, representatively coloured joints ("appearance like a yacht") in wood floors, parquet or laminate. IRSA Elasto-Fill ist auch idealer Kleber für Sockelleisten aus Holz. The product can be over-sealed with all IRSA Platinum water varnishes, IRSA Platinum 2C Öl-Grundierung and oils (not suitable for our alkyd resin varnishes) (IRSA KH-Siegel and IRSA Holzsiegel 2010). Of course, we also deliver the necessary and suitable round cord (this avoids the 3 flank adhesion; PU= 100mm im Karton, Ø 6mm, 8mm or 10mm available on request).
Our 40th Anniversary
we present our new platinum water-based sealing:


Click here of you want to have more information...
Download the current flyer for IRSA 2K HP Plus Oil here
Emission certified building product as per DIBT standards Z-157.10-143.
IRSA 2C HP-Plus Oil, solvent free, with IRSA Hardener 2C HP-Plus (10:1)


For parquet and wooden flooring, for bamboo, cork and OSB,
in colorless, light sand, black, dark grey, light grey, white, wenge.

Extremely fast drying oil for every degree of wear and tear and non-film building, (re-oilable)  

Also for use on IRSA Basic Color, IRSA Design Color Oil or IRSA Lye – with these IRSA products, unique, numerous and individual combination possibilities can be achieved!

From the professional only for the professional! Individuality as opposed to conformity!
CURRENT NEWS
New Products at IRSA:

IRSA Wood Seal 2010 VOC High Solid silk matt as well as IRSA KH Seal 2010 VOC High Solid silk matt saving time and money and meeting the VOC guidelines ?

Only roll-on 2x instead of 3x and nevertheless still get 100 μ dry layer thickness !

No problem with the new IRSA Wood Seal 2010 VOC High Solid and the new IRSA KH Seal 2010 VOC High Solid!


With a VOC value of 499g/L the new IRSA products Wood Seal 2010 VOC High Solid and the IRSA KH Seal 2010 VOC High Solid fulfill the Decopaint guidelines 2004 Level 2, limit value 500g/L VOC, which is valid as of 2010.

With only 2 coats (of at least 120g/m²) one achieves the same dry layer thickness, for which one required 3 layers previously with the old varnish system IRSA Wood Seal 2000 and/or IRSA KH Seal.
This saves time and thus money.

If you want to know more, then click here:
[IRSA Wood Seal 2010 VOC High Solid silk matt] [IRSA KH Seal 2010 VOC High Solid silkmatt]