IRSA Lackfabrik Irmgard Sallinger GmbH
Welcome.
From unpleasant yellow to elegant natural tones:
Old beech parquet of 150qm in the fashion house Wiedemann has up-dated itself with
IRSA Platinum 2K Öl-Grundierung (IRSA 2C Oil Primer)  (Special colour) and IRSA Platinum 2K 3030 ultra-mat (2C water-based water varnish)
Mode Wiedemann has established its fashion shop in this small town with 12,953 inhabitants since 1788.
In the meantime, the yellow beech floor does not fit to the current thoughts regarding lifestyle, fashion and presentation.

The experience craftsmen Hubert Thalhofer from Deisenhausen carried out a competent work. He has 30 years working experience and has been self-employed for 12 years.



IRSA supported Hubert Thalhofer with many indvidually created colour versions.
After presenting various oak wood patterns and beech wood patterns with different colours, Mr. Thalhofer was able to convince his customer to renovate – also to reduce the costs.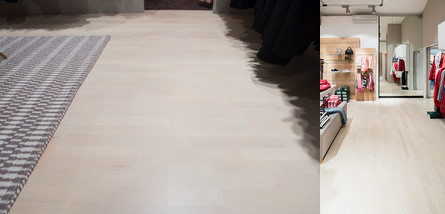 If you want to know more, please click here:
How to turn old floors into new ones with varnish
IRSA helped, to create various colour samples on oak and beech surfaces.  The result should not be an effect like a white surface, but the wood structure should shine through.      The unpleasant colour yellow should also be removed in the long term.     The difficulty is that the colour yellow largely disappears immediately after sanding but reappears after a while.  The colour yellow can only be removed in the long term with a sufficiently pigmented colour primer, which at the same time should not be a complete colour cover as otherwise the natural surface effect of wood will disappear.
 
Therefore, the challenge with the old beech floor was not to use too much pigment and on the other hand to achieve the right combination of pigments, to prevent future yellow effect.

From unpleasant yellow to elegant natural tones:

Old beech parquet of 150qm in the fashion house Wiedemann has up-dated itself with IRSA Platinum 2K Öl-Grundierung (IRSA 2C Oil Primer)  (Special colour) and IRSA Platinum 2K 3030 ultra-mat (2C water-based water varnish)
 
Mode Wiedemann has been associated with the city of Krumbach for more than 225 years.  Krumbach is the second largest city in the Bavarian district of Guenzburg and is situated in its south.     Mode Wiedemann has established its fashion shop in this small town with 12,953 inhabitants since 1788.      Six generations of the family Wiedemann have designed modern clothes for men and women and as a family business are continuously working on the future.  Mode Wiedemann started as a small growing sewing business. Today, the fashion shop offers international manufacturers from classic to young fashion.
 
Despite great competition from the Internet, the family and their team are always aiming, to stay up-to-date.  The Wiedemann family works with strategy, to ensure that the shop stays successful in the future.  Therefore, professional customer service is very important for them.
 
The top brands for trendy people with unusual fashion demands, e.g. regarding lifestyle, large selections of accessories and suitable shoes in the current colours of the season are presented in large bright rooms with elegant parquet floors.  Thanks to the surprisingly large number of professional staff, there is always somebody to fulfil the customer needs. This would never happen that customers would wander around the shop without any help as it is in the case in many big city fashion shops", says the boss Mrs. Fröhlich-Wiedemann.
 
We offer free parking possibilities, possible individual orders and selections, any kind of complaints can be made (money-back guarantee), packaging service, changing of clothes is possible in our own sewing studio, gift vouchers, children's play area and catering with a cup of coffee, cappuccino or espresso.
 

The old, yellowed beech floor had become worn out and no longer corresponds to the contemporary marketing concept.
 
The old, meanwhile yellow beech floor had become worn out and no longer corresponds to the contemporary marketing concept.
20 years ago, beech has been the trend.  The now unpleasant colour yellow of the floor was not suitable to the current idea of lifestyle, fashion and presentation, at all.

Mrs. Fröhlich-Wiedemann considered, whether the old beech floor should be renovated or better replaced with oak strip parquet or oak floorboards. A completely new, time-consuming and expensive floor investment requires good and specialist advice.

You can rely on the regional craftsmen and their competence - especially with individual product and project solutions.

The experienced carpenter Hubert Thalhofer from Deisenhausen, who has 30 years of professional experience and 12 years of self-employment, carried out a competent job. Hubert Thalhofer is used to individual work - whether windows, doors, floors or shutters - his excellent work performance is a successful guarantee. As a small businessman, he is completely dependent on positive mouth-to-mouth advertising and the support of his supplier and wholesaler Hubert Striegel GmbH, Großhandel für Raumgestaltung in Krumbach (wholesaler for room design) with whom he has a good working cooperation. Hubert Thalhofer relies on regional strength regarding purchasing and sales. Personal contact, trustful cooperation, short distances, fast decision-making and help from suppliers are the pillars of Hubert Thalhofer's success.

IRSA supported Hubert Thalhofer with many individually created colour versions.

After presenting various oak floor patterns and beech wood patterns with different colours, Mr. Thalhofer was able to convince his customer to renovate – also to reduce the costs. The existing parquet could be renovated because it could be sanded and therefore it was possible, to achieve better appearance with the right colour scheme.

How to turn old floors into new ones with varnish

IRSA helped, to create various colour samples on oak and beech surfaces. The result should not be an effect like a white surface, but the wood structure should shine through. The unpleasant colour yellow should also be removed in the long term. The difficulty is that the colour yellow largely disappears immediately after sanding but reappears after a while. The colour yellow can only be removed in the long term with a sufficiently pigmented colour primer, which at the same time should not be a complete colour cover as otherwise the natural surface effect of wood will disappear.

Therefore, the challenge with the old beech floor was not to use too much pigment and on the other hand to achieve the right combination of pigments, to prevent future yellow effect.

Mr. Thalhofer was able to achieve with a special setting of IRSA PLATINUM 2K Öl-Grundierung (IRSA PLATINUM 2C oil primer) this goal. IRSA Platinum 2K Öl-Grundierung (IRSA Platinum 2C Oil Primer) is a 2-component high-solid oil combination with natural oils, cross-linking and oxidatively drying by the addition of IRSA 2K Öl-Härter (IRSA 2K Oil Hardener). The 2-component oil is available from IRSA in the colours colourless, white, black, light grey, teak, anthracite, wenge, oak, mud/plating grey.

Special colours are available on request.

As the product is very easy to process - even large areas can be quickly, easily and evenly dyed - it was the first choice for the 150 m2 area for the Wiedemann fashion store. The consumption is only 30-80 g/m2 for one application (filling or rolling) - depending on the absorbency of the wood - and is completely polished in. After a drying time of at least 12 hours, the oil can be repainted, to obtain a highly durable surface.

The paint primer can be sealed over with all IRSA Platinum 2K water-based varnishes (IRSA Platinum 2C 3010 satin, IRSA Platinum 2C 3030 ultra-mat, IRSA Platinum 2C 3055 high gloss, IRSA Platinum 2 C Nature Feeling extremely matt). The ultra-mat version was used for the Wiedemann fashion store.

IRSA Platinum 3030 2C ultra-mat polyurethane waterborne coating is extremely wear and scratch resistant. The sealing layer does not get yellow. The closed coating film is water-resistant even after prolonged exposure to water and convinces with its good resistance to household chemicals. IRSA Platinum 3030 2C polyurethane water-based parquet varnish is insensitive to heel marks. The subsequent care and cleaning after the hardening time of the over-coat is carried out with IRSA Aqua Star R9, so that the mat surfaces also remain mat.


Manufacturer of varnish and top-coats
IRSA Lackfabrik Irmgard Sallinger GmbH,
86489 Deisenhausen, info@irsa.de, www.irsa.de

Craftsman
Mr. Thalhofer, 86489 Deisenhausen

Trade/Source of supply
Hubert Striegel GmbH, Wholesaler for interior design,
86381 Krumbach, www.striegel-heimtex.de/
 
Photographer/pictures:
Wolfgang Mennel, Bahnhofstr. 15 b, D-86473 Ziemetshausen
info@wolfgangmennel.de, www.wolfgangmennel.de
© IRSA Lackfabrik Irmgard Sallinger GmbH
An der Günz 15
86489 Deisenhausen
fon. 0049-(0) 8282.8944.0 l fax 0049-(0) 8282.8944.44